« BMW Z4 Coupe | Home Page | Automotive atrocities : Bond Bug »
Cadillac and Corvette back in the UK
By Stéphane Schlesinger on 14 October 2005 |
(1) Comments | Permalink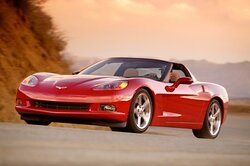 After a failed attempt between 1998 and 2003 (only 3,000 cars sold), Cadillac and Corvette are being relaunched in the UK. This time, Cadillac's range seems more competitive, including the Sweden-built executive sedan BLS, the luxury saloon CTS and the huge SRX, an enormous SUV. Even if those brands are still part of GM, they will be commercialised by an independant importer, the Dutch run Kroymans group.
They assume they number of dealers will amount to 20 by the end of 2008, which should allow to sell 7,000 cars over this period.
Prices will start at £20,000 for the BLS (available with an excellent diesel engine designed by Fiat), £24,850 for the 2.8 V6 CTS and £ 29,850 for the 3.6 V6 SRX.
As for the Corvette, it's been separated from Chevrolet and form an independant brand within the GM galaxy. The 186mph 400bhp C6 coupe is priced at £45,850 and the convertible at £51,850.
Fortunately, this time, these cars will come with a right-hand drive (excepted the SRX before 12 months and the Corvette) even if the BLS is not expected before May 2006. Then we'll see if the it can actually take BMW's remarkable 3-Series.


TrackBack
TrackBack URL for this entry:
http://www.typepad.com/t/trackback/398149/3367707
Listed below are links to weblogs that reference Cadillac and Corvette back in the UK:
Comments
Posted by: Jack Yan | Nov 12, 2005 12:44:31 AM
It'll probably still be doomed. The fit and finish of the Cadillacs are still poor compared to their European rivals, which amazes me. I love the look of the CTS but the BLS and STS seem more like exercises in enlarging and shrinking photostats of plans.
And ever since I heard of Corvette becoming a marque for Europe a few years ago, I thought that silly: GM has enough of