« Hot Focus | Home Page | Peugeot 207 not unveiled before Januray 2006 »
Cadifiat or Fiadillac ?
By Stéphane Schlesinger on 1 June 2005 |
(1) Comments | Permalink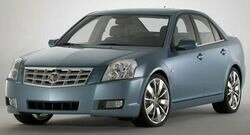 Specially meant for Europe, here is the Cadillac BLS. Imitating the angular styling of the CTS, this compact sedan will offer diesel engines, a prerequisite for success in Europe.
Guess what? Its 1.9 diesel unit is called JTD in Italy! Yes, this is the first Fiat-powered Cad' ever: a remnant of the dead Fiat-GM alliance. This is far from being a bad bet, since Fiat's know-how in terms of common-rail technology is world widely acknowledged.
Another interesting point: the platform of this new Cadillac is called "Premium". Does it ring a bell? To me, yes: this is the name given to another platform: the Alfa 159's! No need to worry anyway: all these components are technologically excellent.
Cadillac hopes to sell 20,000 copies a year of its new front-wheel-drive car, which will be available in Europe only. To achieve this goal, other engines will be offered: a 2.8 turbo diesel V6 and two turbocharged petrol engines, of respectively 2.0 and 2.8 litres.
The American carmaker has not disclosed any horsepower rating yet, but promises the handling and ride will be among the best in class, relying on Mc Pherson front struts and a multilink rear suspension. Of course, the equipment list will match Cadillac's standards, including a touch-screen operated DVD-based GPS system combined with a Bluetooth telephone.
This is not too much to compete with the Audi A4, the Mercedes C-Class or the BMW 3-Series late 2005.
TrackBack
TrackBack URL for this entry:
http://www.typepad.com/t/trackback/398149/2543535
Listed below are links to weblogs that reference Cadifiat or Fiadillac ?:
» Advanced MP3 Catalog Download from MP3 Catalog
Download advanced mp3 catalog pro Advanced MP3 Catalog is designed for anyone ... Generate and print reports and CD covers, export your catalog, search for ... [Read More]
Tracked on Mar 19, 2006 6:48:46 AM
Comments
Posted by: castigamatti | Aug 5, 2006 4:27:12 PM
the engines is the new multijet, now product by opel , not jtd. The platform is the epsiln by opel-saab-vauxhall, isn't the premium of fiat groups
Post a comment