« Alonso wins Grand Prix de France one lap ahead of team-mate Fisichella | Home Page | Montoya wins at Silverstone while Alonso strengthens his position »
BMW releases 3-series Touring
By Stéphane Schlesinger on 5 July 2005 |
(1 ) Comments | Permalink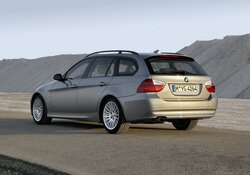 Anticipating Alfa's 159 Sportwagon, BMW releases the estate version of its best-seller. BMW designers, led by Chris Bangle resisted the temptation of a bold styling. This 3 series Touring can load up to 1385 litres of luggage, which exceeds the capacities of a Mercedes C-Class Estate or a Peugeot 407 SW. Nevertheless, a VW Passat Variant or a Vauxhall Vectra offer up to 1850 litres.
BMW has paid a great attention to practicallity, fitting this new version of the 3-series with a reversible boot floorpan, a 12 volt power socket, luggage lashes or a bag and umbrella holder. For a few hundred extra pounds , you can get a waterproof box to store muddy boots for example.
Technically speaking, the Touring is almost identical to the excellent sedan. But beware: the Alfa 159 Sportwagon is underway...

TrackBack
TrackBack URL for this entry:
http://www.typepad.com/t/trackback/398149/2768922
Listed below are links to weblogs that reference BMW releases 3-series Touring:
» poker 558 from poker 558
poker 558 [Read More]
Tracked on Dec 10, 2005 12:43:44 AM
» poker 87 from poker 87
poker 87 [Read More]
Tracked on Dec 10, 2005 12:43:48 AM
Comments
Posted by: Angel Help | Jan 11, 2008 9:20:45 PM
BMW will always be top of the class.
Post a comment