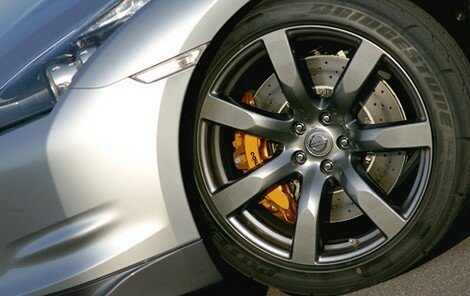 With a highly competitive price tag of $69,850 for the entry model, Nissan has limited ambitions for the GT-R on the American Market, Indeed, the Japanese carmaker plans to sell 1,500 cars every year.
This conservative sales forecast might become more than a problem for Nissan. On the Japanese market, the manufacturer expected to sell around 200 cars for November. In less than two weeks, it recorded 2,282 sales. At this rate, it would be able to sell 25,000 cars per year, only on the Japanese market. If we consider with a very rough calculation that the US has twice the population of Japan, Nissan might sell 50,000 cars per year. Add the European sales and it might reach 55,000 sales per year. It would be more than a triumph for Nissan. But let's come back on earth. Nissan has only the capacity to build 12,000 GT-Rs per year at this moment. Speculations are opened and some dealers plan to markup the GT-R as high as $15,000 per vehicle. It will still be far less expensive than the Porsche 911 Turbo, which costs $122,800.
How will the GT-R perform in Europe? The car has an estimated price tag of £60,000. If it is less expensive than the 911 Turbo, it is still very expensive. Despite having no Nissan badge, except on the deck lid, the GT-R will remain a Nissan for European customers who are more attracted by the brand than the cars themselves.
Source: Autoblog