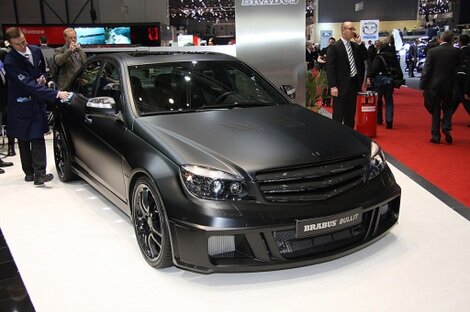 Brabus has unveiled its own interpretation of a sporty Mercedes C-class powered by a 730bhp V12 engine.

You've just bought the latest C63 AMG and think you own the most powerful C-class available on the market. Well, sorry to tell you that Brabus has released a more powerful C-class named Bullit Black Arrow.

The new Brabus model is powered by a 6.3-litre V12 petrol engine that has a power output of 730bhp at 5,100rpm and a torque output of 974lb ft. The enngine is hooked up to a five-speed automatic gearbox.
With such an avalanche of power, the Bullit Black Arrow can run the 0-62mph in just 3.9 seconds, the 0-124mph in 10.5 seconds and the 0-186mph in 24.5 seconds. Brabus claims the Bullit Black Arrow can reach a top speed of 224mph.
In order to brake all that power, the braking system has been upgraded with 380mm discs at the front and 360mm discs at the rear. The car will be built in a limited number and will cost you £264,000 if you want one.