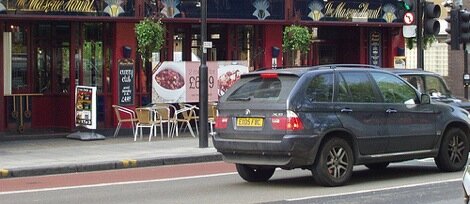 Research undertaken by organisers of the British Motor Show uncovered bizarre behaviour behind the wheel.
A fifth of British drivers (21%) have been frisky with their partners whilst driving, almost a third flirt with traffic wardens to avoid tickets (30%) and a fifth spend more time checking out good-looking drivers than focusing on the road (19%), according to the research.
The research found a dishonest fifth (21%) of UK drivers, who accidentally damage another car, don't own up to it, but that figure rises to nearly half (44%) of all drivers in London. Other areas of the country to avoid are Wales (19%), and East Anglia (18%).
Supermarkets are also a hot spot, with nearly half (44%) of all secret prangs happening in their car parks, with street parking (32%) and multi storey car parks (30%) also topping the list. Reasons for driver behaviour include it being too much hassle to own up (19%), "I've had it done to me before" (20%) and being in a hurry (13%).
The research also probed people's knowledge of the workings of their car, and unearthed guilty secrets here too. Nearly half doesn't how to change a tyre (43%), a third doesn't know where the dipstick is (29%), a quarter doesn't know how to adjust tyre pressure (27%), a quarter doesn't know the difference between the windscreen washer and the radiator cap (25%), a quarter doesn't know how to refill with oil (25%) and a tenth put petrol in a diesel engine (9%).
Below is the list of The UK driver's top ten guilty secrets:
Eating at the wheel (67%)
Chatting on mobile (37%)
Flirting with traffic wardens to avoid a ticket (30%)
Driving off with items left on the car roof (26%)
Damaging another car and not owning up to it (21%)
Checking out the good-looking drivers around you (19%)
Putting on lipstick/makeup/checking hair in the mirror (18%)
Reading a newspaper or magazine (13%)
Using a 'Dr on call', when you're not a doctor (8%)
Picture from rjw1 on flicker