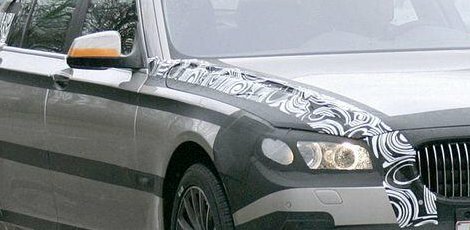 The next-generation BMW 7-series is reported to be officially unveiled on July 7th.
BMW is expected to take the wraps off its new flagship next July. For the carmaker, it will be a come back to the roots with a more conventional design and a focus on technology. The next 7-Series will be available with two petrol engines at launch, both twin-turbocharged, the 4.8-litre V8 unit that appeared on the X6 and a re-engineered V12 engine. Both engines will be hooked up to a new eight speed automatic gearbox. The V8-powered version will feature two square pipes, while the V12 engine will come with four square pipes.
For the first time, the 7-Series will be available with an all-wheel drive transmission. However this option won't be available at launch like the four wheel steering System. The 7-Series will the first company's model to offer this technology. Without a doubt, the four steering wheel system will help the heavy limousine to be more agile than ever in corners.
The interior will re-introduce the famous driver orientated console. Abandoned on the current model, this move confirms that the carmaker wants to go back to its roots. However, the controversial iDrive will still be available. The 7-Series will debut a second-generation which will allow the carmaker to control everything, even personalize the warning system!