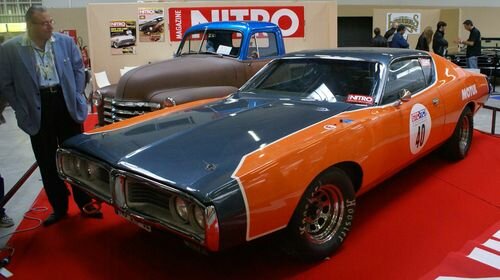 I'm selling a NASCAR inspired 1972 racecar. It is a fire breathing, loud, fast and impressive Dodge Charger. It eats Shelby Mustangs for breakfast and chews Aston Martins in no time! It is fully race prepped and well race proven. Here is your chance to buy a cool ride and go enter the coming Le Mans Classic race! If you're interested, leave a comment here below or contact me by e-mail at oly DOT express AT free DOT fr .
Here are the specifications:
V8 400 ci
833 HEMI 4 speed
Centerforce clutch
Hurst shifter
locking 8.75 with 2.94:1 gears
Chrysler 11" front disc brakes
Chrysler 11" rear drum brakes
Power steering
Aluminium Oil and water radiators
6 point FIA rollcage
ATL 80 litres FIA fuel tank
race ready weight 1580 kg
3 sets of 8×15 wheels (slicks, intermediates, rain)
Engine had 408 HP when fresh and now needs new rings and bearings after three racing seasons.
Price as is 19.900 EURO
Price with freshened engine 27.900 EURO
Phone +33 672 91 80 78