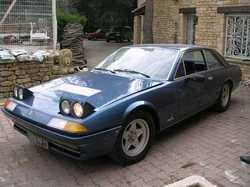 Believe it or not, but the Ferrari diesel exists and is for sale in the south of France, for €38,000 (approx. £24,000). In fact, this is a Ferrari 400i whose owner replaced the engine with that of a… boat! Yes, the mythical V12 has given way to a 6-litre 6-in-line turbodiesel made by VM, delivering 175bhp.
Yes, this frenchy deserves a nasty sentence, but then, Ferrari is rumoured to proceed with tests on a 612 Scaglietti diesel! That on the photo below was followed and the photographer reported a strange noise, ground-oriented exhausts and strange smokes. If it's true, what on earth is Ferrari doing?
There were once rumours of talks between Audi and Maserati, when Fiat's misfortunes were peaking. It was question of putting the V10 TDI into the Maserati Quattroporte. Happily, this never happened.
But then, since even Jaguar makes an XJ diesel, why not a Quattroporte V8 JTDM one day?