« Nissan reveals teaser for 2010 compact SUV | Home Page | GM seeks tax breaks to build Chevrolet Volt in Detroit »
Volvo announces pricing for the XC 60
By Yoann Besnard on 5 June 2008 |
(3) Comments | Permalink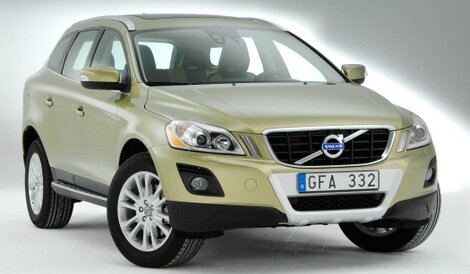 Volvo has announced pricing for the long-awaited new XC 60 SUV set to compete with the Audi Q5, BMW X3 and the Mercedes GLK outside the UK.
The Volvo XC60 was unveiled at the Geneva Motor Show in March and has already won a UK technology award for its innovative City Safety system, an autobrake collision avoidance system which is a standard feature on this new car. Starting at £24,7501, the Volvo XC60 will be available in three trim levels: S, SE and SE Lux and will have the choice of three engines: the turbocharged T6 producing 285bhp, and two variants of the D5 turbodiesel generating 185bhp and 16bhp, respectively.
The S model features 17" Segin alloy wheels, front fog lights, roof rails and rear spoiler, the advanced safety systems, City Safety and RSC, short for Roll Stability Control. Equipment includes climate control, information centre, cruise control, leather steering wheel with remote audio controls, aluminium trim and performance sound audio system with aux input and CD player.
The SE trim level adds Hill Descent Control, power driver's seat with memory and auto-folding power door mirrors with ground lights, Eriksberg T-Tec/Textile upholstery, auto-dimming rear view mirror with compass and chrome window trim.
In addition to the SE, the SE Lux comes with chronographic instrument dials, leather upholstery and Nordic Light Oak natural wood trim, while both front seats will be powered and heated. Other equipments include floor mats and chrome detailing, 18" Merac alloy wheels, active bending headlamps, power tailgate and rear park assist.
Pricing
2.4D AWD S: £24,750
D5 AWD S: £25,750
2.4D AWD SE: £26,250
D5 AWD SE: £27,250
T6 AWD Geartronic SE: £31,995
2.4D AWD SE Lux: £28,750
D5 AWD SE LUX: £29,750
T6 AWD Geartronic SE Lux: £34,495
Comments
Posted by: yang | Jun 6, 2008 7:34:33 PM
super car
Posted by: Tiger balm | Aug 30, 2008 11:27:36 AM
Very nice car, Thank for this post
http://www.baume-du-tigre.fr
Posted by: Volvo Cars | Jul 31, 2010 1:12:02 PM
A full-size station wagon, the Volvo V70 of the Volvo Car Group is originally a development of the 850 station wagon and sedan series. A trivia for this car company is that it has a naming strategy that completely depends on the vehicles size and body style. The car manufacturer, Volvo, in the station wagon segment adopted V (which means Versatility), S (which stands for Sedan), and C (which refers to the new Coupe and Convertible).
Post a comment