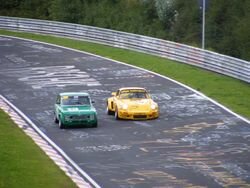 After that Group C dominated the prestigious Nordschleife for the last 1000 km race in 1983 and that the Le Mans Series had their last outing there on the modern Grand Prix track in 2009, the greatest thing in the 50 year old history of the ADAC 1000 km race happened last week-end when FHR promoter Kai von Schauroth reunited the Nordschleife and Grand Prix track for the 2010 race! And what a race it was! While the first three hours were in the dry, with best lap times in the low 10 minute region, pouring rain and some fog marked the final four hours of the race.

Out of 97 starters, 70 managed to finish. While overall victory and podium results went to usual suspects in 1970s RSR Porsches and 1980s Group A BMWs, most notable was the 5th overall finish of the 1964 Holman Moody Ford Fairlane of Barney Gerollheimer and Fred Feuerstein co-driven by Roland Asch!


One of the absolute crowd pleaser was the 1963 Ford Galaxie from Sweden. It hit the barriers a couple of times in the wet part of the race, but managed to finish well. The complete results are here: FHR Nordschleife 1000 km. And more pictures here at Picasa by Achim and Achim.