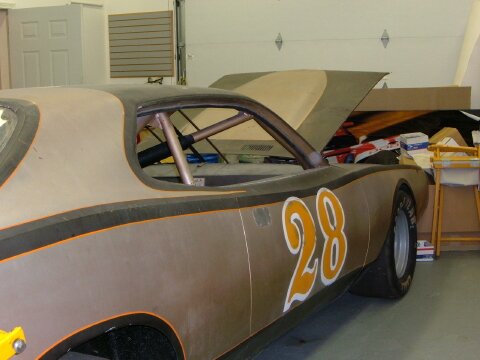 From time to time, well preserved former NASCAR glories surface here and there. This one has a 1974 Dodge Charger body on a late 60s or very early 70s Petty chassis. It might have well been a Superbird, but only that car can tell!


Where once a 426 HEMI bellowed, now a small block resides. This could indicate that it was raced upo until 1977, when the body was still elligible.






It looks like the restrictor plate is still under the Holley carburetor. However, this Holley does not look like a Grand National piece, but more something from a late model.

A peak of the interior, where you can see the typical Petty crossmember. It looks like the interior was red in its day.


Pop riveted inside door panels could be a hint to the late sixties origin of this MOPAR.


Three bar headrest: another hint to Petty Enterprise origin!


The front of the chassis looks newer. The original was probably replaced after a crash.




Drum brakes in the front indicate that it might have well been a super speedway car!


Now who had #28 in Grand National or Winston Cup or ARCA in 1977 ?


The typical squirrel wheel cooler for the rear end or transmission.