« Mercedes to offer tiredness detection system in 2009 | Home Page | Spyshots: Chevrolet Camaro »
Suzuki A-Star Concept to be unveiled at New Delhi
By Yoann Besnard on 12 December 2007 |
(7) Comments | Permalink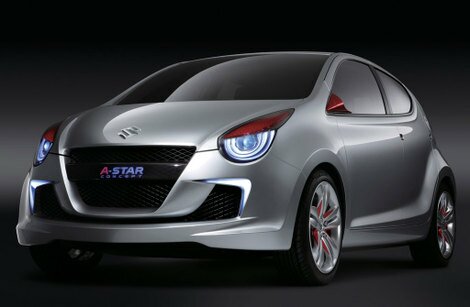 Suzuki will join the global car's band when it unveils its Suzuki A-Star Concept at New Delhi Motor Show. The concept car previews a future global car Suzuki intends to build in India at Maruti Suzuki's Manesar plant beginning in October 2008.


Specifications of the model remains unclear, but it is said that the small car will be powered by a 1.0-litre petrol engine which will compliant with Euro 5 emissions. A four-seater, the concept-car is displayed as a five-door model but a three-door variant mustn't be ruled out.


It's too soon to comment on the styling, but one does not expect the production model to be so appealing as Suzuki will focus on cutting cost. However, the future Suzuki will keep the overall shape as it will likely be sold in Europe and Japan under the label Alto.


Suzuki plans to increase the Manesar's production capacity to 1 million vehicles in order to meet the Indian demand and also export cars to Europe.
Comments
Posted by: sajan | Mar 14, 2008 8:23:15 AM
very nice
Posted by: aashish | Aug 6, 2008 4:29:27 PM
hi.......
i lke dis car
hw much tme it will tk 2 cme.......
waitng 4 dis........gajab.....
Posted by: dharmesh | Aug 10, 2008 3:16:19 PM
i want see ho many rupees of this car i really liked it.
Posted by: LALIT | Aug 15, 2008 5:03:21 PM
I want to see actual picture of A STAR to be launched in INDIA,Its technical specificaton ,milage and of course appx.showroom price.
Posted by: PATEL DARSHAN T. | Sep 23, 2008 10:39:49 AM
ITS BROKE A RECORD IN AUTOMOBILE HISTORY
Posted by: barkat ali | Oct 4, 2008 11:09:46 AM
this time launch maruti A STAR
very good
''
Posted by: kishan Parmar | Oct 4, 2008 11:15:09 AM
BAKWAS FULLY BAKWAS
Post a comment