|
Back to Home Page
|
Ferrari unveils an all-new model, the California
By Yoann Besnard on 14 May 2008 |
(0) Comments | Permalink
The Italian marque took the wraps off an all new model called California which is powered by a V8 engine.
Ferrari to open its first store in the UK
By Yoann Besnard on 29 April 2008 |
(0) Comments | Permalink

Ferrari has announced it will open its first British store in London this autumn.
Ferrari to debut in India by 2010
By Yoann Besnard on 3 April 2008 |
(0) Comments | Permalink

With its 83,000 millionaire, the Indian market can not be ignored by Ferrari which has announced it will debut sales there by 2010.
Three years waiting list for a Ferrari
By Yoann Besnard on 18 February 2008 |
(0) Comments | Permalink

Fifteen years ago, ferrari sold 128 cars on our shores. Last year the company sold 699 vehicles and it becomes really difficult to get one. Depending on the model, the wait can last up to three years.

Ferrari recorded a strong 2007 year
By Yoann Besnard on 13 February 2008 |
(0) Comments | Permalink

The Italian marque has announced that its turnover had jumped from £1,076million in 2006 to £1,240million last year and that 6,465 cars had been delivered representing a 14 per cent increase over 2006.

Ferrari to launch a £100,000 car
By Yoann Besnard on 9 February 2008 |
(0) Comments | Permalink

The car you see here is the future Ferrari which will be unveiled at the next Paris Motor Show. On the menu: 2+2 architecture, front engine and £100,000.

Ferrari rules out the SUV rumour
By Yoann Besnard on 11 December 2007 |
(2) Comments | Permalink


In a recent interview, Ferrari general manager Amedeo Felisa has ruled out the rumours of Ferrari planning to build a SUV. He also denied once again the rumours of the future Dino.
Ferrari FXX, an upgraded Enzo
By Stéphane Schlesinger on 16 June 2005 |
(0) Comments | Permalink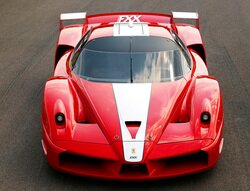 The new Ferrari FXX is presented as the most sophisticated Ferrari in all time, F1s excepted. Only 20 highly skilled (and wealthy) customers will be granted the right to spend € 1.5 million (£1 million) for a car they won't even drive on open roads for it's not homologated. As a consequence, it won't be a competition model either. Actually, clients will exclusively use it on track and, thanks to its on board telemetry system, gather information that will be exploited by Ferrari for further development. The FXX is powered by a 6262cc V12 engine delivering 800bhp at 8500rpm coupled with an F1-inspired gearbox changing gears in 100ms, a figure almost matching that of a real F1. Moreover, it's possible to adapt the various spoilers configuration to suit a specific circuit. Along with an innovative shape allowing a 40% increase of the downforces, 19'' Bridgestone slick tyres and special extra-large brakes designed by Brembo composed of ceramic and metal, reaching the limits of the car will require a skilled pilot's know-how. On request, the FXX can get a passenger seat.
The Ferrari diesel exists!
By Stéphane Schlesinger on 15 June 2005 |
(1) Comments | Permalink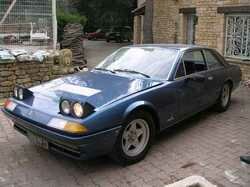 Believe it or not, but the Ferrari diesel exists and is for sale in the south of France, for €38,000 (approx. £24,000). In fact, this is a Ferrari 400i whose owner replaced the engine with that of a... boat! Yes, the mythical V12 has given way to a 6-litre 6-in-line turbodiesel made by VM, delivering 175bhp.
Yes, this frenchy deserves a nasty sentence, but then, Ferrari is rumoured to proceed with tests on a 612 Scaglietti diesel! That on the photo below was followed and the photographer reported a strange noise, ground-oriented exhausts and strange smokes. If it's true, what on earth is Ferrari doing?
There were once rumours of talks between Audi and Maserati, when Fiat's misfortunes were peaking. It was question of putting the V10 TDI into the Maserati Quattroporte. Happily, this never happened.
But then, since even Jaguar makes an XJ diesel, why not a Quattroporte V8 JTDM one day?
Get sun-tanned in a Ferrari F430
By Stéphane Schlesinger on 31 May 2005 |
(0) Comments | Permalink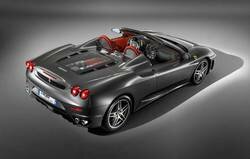 The convertible version of the Ferrari F430 is now available : you'll be able to show off next summer on the French Riviera.
Ferrari remains faithful to the good old canvas roof, for reasons of space and weight. It will automatically fold in 20 seconds, allowing the lucky driver, provided he looks back, to admire the 4,308 litres V8 engine, amazingly quiet under its transparent panel.
But this quietness won't last: apart from the roof, the F430 Spider is identical to the Berlinetta, the 490bhp's breathtaking acceleration may make you a dangerous deliquant!
For the passengers' safety, 2 roll-bars take place behind their heads and the driver still can rely on the E-Diff (electronic differential) to keep the car on track when pressing the accelerator too hard.
He, or she, will be tempted to do so for the Manettino is still here, on the Momo steering-wheel. This F1-like device allows the driver to tune the car according to his will, if the Manettino is set on "race", then the suspension gets stiffer and lower and the gear change faster.
490bhp at a screaming 8500rpm in your back, a weigh-to-power ratio of 2.9 kg per hp: you are propelled from 0 to 60 miles in 4 seconds, with a top speed over 190 mph.
I am sure you can't wait until June, when this toy for grown-ups goes on sale, to sign a cheque of £127,000.
If you think this is too much, or if you like discretion, the Fiat Group, Ferrari's owner, still has a bunch of Barchettas to sell, production having ceased for a few months.