« Seat unveils the three-door Ibiza | Home Page | GM unveils its restructuring plan »
Right-hand drive Camaro confirmed for Europe
By Yoann Besnard on 5 June 2008 |
(0) Comments | Permalink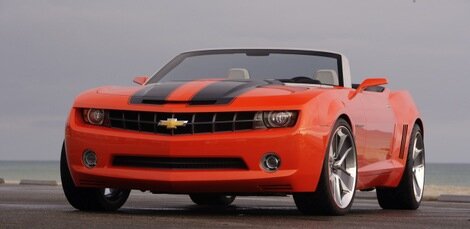 In a surprising move, GM has confirmed that the long-awaited Camaro will be sold in Europe, but also in the UK in a right-hand drive version.
Nobody really expected GM to bring its muscle-car on the European market, but it has been confirmed that the Camaro will reach our shores thanks to its links with the Vauxhall VRX8 also sold in the UK. The Camaro shares its underpinnings with the Vauxhall model, the Zeta platform which has been designed to feature left-hand drive and right-hand drive versions. About 600 cars, half convertibles and half hardtops will be brought to the British market. The V6 powered and the rumoured four-cylinder unit will be reserved to the American market.
In order to cut maintenance cost, GM will only bring the most powerful version which shares its engine with the VRX8, a 400bhp V8 petrol unit. The Camaro will keep its current label, Chevrolet, as GM has plan to increase the sales of its brand on the European market. GM plans to double the lineup by 2012.
Source: Autocar
Comments
Post a comment