« New engines for the Range Rover | Home Page | Jaguar XJ 2.7 diesel to become taxi drivers' new favourite? »
New Marcos TSO GT2 Coupe
By Stéphane Schlesinger on 14 June 2005 |
(0) Comments | Permalink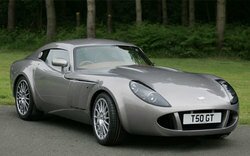 On June 13, Marcos released its new TSO GT2, at London's Canary wharf Autoexpo. This light sports car (1150kg) receives a GM 5.7 V8 engine delivering up to 475bhp. A dreadful power-to-weight ratio indeed! Thus, the new Marcos accelerates to 60mph in 4 seconds, to 100mph in 9 second and hits a top speed of 185mph, on track needless to say. Thanks to its 50/50 weight ratio, Marcos claims it remains quite easy to drive. Besides, with its impressive torque, it can accelerate from 50 to 70mph in… 2 seconds!
The customer can choose between two packages:
Sports Package, including the 475bhp V8, sports suspensions and racing brakes.

Tourer Package, with a softer suspension and comfort fittings.
Prices start at £49,995. This is not so costly for a car that can humiliate a TVR Tuscan, a Porsche 911 or a Ferrari F430.

TrackBack
TrackBack URL for this entry:
http://www.typepad.com/t/trackback/398149/2641843
Listed below are links to weblogs that reference New Marcos TSO GT2 Coupe:
Comments
Post a comment