|
Back to Home Page
|
Tribute car
By lizrosier on 24 May 2006 |
(0) Comments | Permalink

Hello fellow car lovers. So sorry for the delay in new blogs, but I've been swamped at work and I lost the pics from the classic car show a couple of weeks back. Just my luck! Anyway, this Mustang is owned by a couple I met yesterday. He is in the army and has dedicated this car to VA's, POW's and MIA's. He takes it to car shows around the Olympia area. Very nice. I know the pic is a little blurry, but I wanted to put it on here so everyone could take a look. The front hood has a ton of names of VA's on it. I think it's such a great tribute! I'll try to find out a little more about it in the next couple days and post the info. He offered to put my grandfather's name on it too! What a guy! Anyway, take a look and see what you think! Have a great week all!
Volvo S60: an illusion of change
By Yoann Besnard on 3 May 2006 |
(0) Comments | Permalink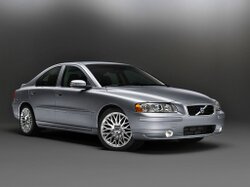 Have this ever happened to you? You're going to a club, are ready to strut your stuff on the dance floor. You take a seat and are chatting with your friends when the ladies of the group want to go and powder their noses. You acquiesce and carry on discussing until their return makes you totally confused. Despite your expert eye, you perceive no changes and you still ask yourself the point of this female ritual.
What is the link with the refreshed Volvo S60? Well, the time required by girls for a discussion in front of the mirror is equivalent to the time taken by Volvo to refresh the Volvo S60 – and in both cases changes are impossible to discern.
Continue reading "Volvo S60: an illusion of change"