|
Back to Home Page
|
Chrysler to reduce its SUV lineup
By Yoann Besnard on 22 March 2008 |
(0) Comments | Permalink
In an interview given to Bloomberg, Jim Press revealed that the carmaker needs fewer SUVs.
Spyshot: Dodge Breeze
By Yoann Besnard on 19 March 2008 |
(0) Comments | Permalink
Here are the first spyshots of the new Dodge Breeze expected to go on sale in Mexico next year.
Dodge rolls off the 25,000th Viper
By Yoann Besnard on 12 March 2008 |
(0) Comments | Permalink
The troubled Chrysler has rolled off its 25,000th Dodge Viper at its Conner Avenue Assembly factory.
Chrysler to resume production at Illinois plant
By Yoann Besnard on 18 February 2008 |
(0) Comments | Permalink

After a five-day close due to a mechanical glitch, Chrysler will restart production at the Belvidere plant in the US. The plant builds the Dodge Caliber, Jeep Compass and Jeep Patriot models.
Leaked pictures of the Dodge Challenger
By Yoann Besnard on 1 February 2008 |
(0) Comments | Permalink

Due to be officially unveiled at the next Chicago Motor Show, Leaked pictures of the Dodge Challenger are emerging on Internet. After the front fascia, the latest shots show the aft of the 2008 hottest car on the American market.
The Demon will be Chinese and front-wheel drive
By Yoann Besnard on 15 January 2008 |
(0) Comments | Permalink

The Dodge Delon Cocept has been given the green light and will be built in China by the local Chrysler's partner Chery.
Dodge has unveiled Journey crossover specifications
By Yoann Besnard on 23 December 2007 |
(0) Comments | Permalink


The new Journey is Chrysler's serious attempt to enter the crossover segment in the US and in the Europe where it will go on sale next year. Unfortunately, the crossover segment is still in its infancy so it will also compete with the small SUVs such as the Volkswagen Tiguan or the Mitsubishi Outlander with which it shares its underpinnings.
Chery A1 to head to Mexico
By Yoann Besnard on 19 December 2007 |
(0) Comments | Permalink


Chery will sell the A1 in Mexico next year under the Dodge label following the agreement signed by Chysler and Chery this year. The exact price remains unknown but for Chery it's an access to the American market where the small Chinese car will be sold by 2009.

6,000 deposits for the Dodge Challenger
By Yoann Besnard on 10 December 2007 |
(0) Comments | Permalink

This is a very good news for the troubled Chrysler. The American car maker received 4,300 pre-order deposits for the first day of the Dodge Challenger debut. From December 3 until last Friday, it recorded 6,000 deposits. This unplanned rush might also become a nightmare as Chrysler originally planned to build 5,000 cars per year. The waiting list might become longer when the car will be officially on sale. But, Chrysler has announced that it might increase the production to 10,000.
Dodge Zeo Concept
By Yoann Besnard on 21 November 2007 |
(0) Comments | Permalink

The sketch you see here is the second concept car which will be revealed by Chrysler LLC at the next Detroit Motor Show. It is a 2+2 sport wagon labeled Dodge Zeo concept.

New Dodge Viper SRT-10 ACR
By Yoann Besnard on 13 November 2007 |
(0) Comments | Permalink


Here are the first official pictures of the Dodge Viper SRT10 ACR due to be unveiled at the Los Angeles Motor Show next week. With this new ACR version, Dodge has focused on weight reduction, with lightweight wheels, lighter Michelin Sport Cup tires and lighter - but equally as powerful - brakes. On the interior, all luxury items have, of course, been removed. Dodge leaves the audio system, the underbonnet sound deadening system, the boot carpet and the tire inflator behind. The interior also features carbon fiber panels to reduce the overall weight.
E85 Viper breaks standing mile record
By Yoann Besnard on 18 July 2007 |
(0) Comments | Permalink

An E85 Viper has broken the standing mile record for street cars, achieving a speed of 220.07mph and beating the previous world record by 2.85mph.
My First Car
By lizrosier on 13 April 2006 |
(1) Comments | Permalink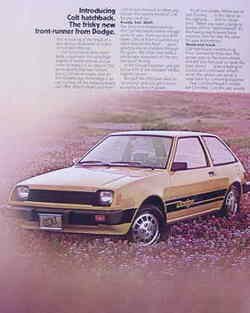 When I turned 19, I decided it was finally time to get my driver's liscence and buy a car. I remember thinking, "I'm gonna get a 4x4 truck or a nice Jeep!" Then I came home one day and my sweet mother had bought me this exact car. A 1979 Dodge Colt, lemon yellow (and a lemon, it was) with ugly black racing stripes. Not to mention I didn't know how to drive a stick. After 2 months, that car was dead. I had rode the clutch and grinded gears so much, it couldn't have lasted much longer than that anyway. That poor car went through hell with me behind the wheel.
To start with, not a week into owning it, my genius boyfriend put diesel in it. Need I say more? After that was fixed, we proceeded to take it 4x4-ing out in the boonies, getting it high-centered and having to walk 5 miles back to town to call a tow truck. Fun fun. And last, but not the only other thing that I did to that poor car, the town I lived in had one main road with a big hill seperating the two sides of town. Be it bad driving or dead car, I couldn't make it up that hill and proceeded to roll backwards, screaming at the people behind me to get out of the way. Looking back on that now, I laugh of course, but at the time...well...I'm sure you can imagine. I was so embarrassed, I called my poor mother and chewed her out for putting me through such hell. It was all her fault for buying the stupid thing!! Ten years and a couple of cars later, I've made peace with my mom, stopped 4x4-ing with vehicles that aren't supposed to 4x4, and become a much better driver!
Back to the future in a brand-new Dodge
By Stéphane Schlesinger on 31 May 2005 |
(0) Comments | Permalink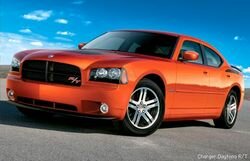 Dodge sought inspiration in its past and was damn right! Remember the time of those terrific muscle-cars? Dodge has dug out a famous name: Charger.
So, the Dodge Charger is back, with a suggestive fast-back body built on a Chrysler 300 platform. From the sixties, not only does it keep the style but also the power: under the bonnet, you can notably find V6 and V8 "Hemi" engines, delivering 250 and 340bhp.
This rear-wheel-drive sedan offers a near 50/50 weight distribution and Nivomattm self-leveling shock absorbers are standard on the Daytona R/T version.
All models in the line-up are equipped with ESP (electronic stability program), ABS and TCS (traction control system) devices so as to make them easier to drive than their famous ancestor.
Last but not least, the SR/T Charger receives a tremendous 6.1 litres V8 engine delivering no less than 425bhp, and 20-inch forged aluminium wheels.
The icing on the cake: it's not even expensive, since the SE is available for $22,995 and the powerful Daytona R/T will be yours in exchange of $32,495.
Of course, at this price, don't expect the finish of an Audi A6...