|
Back to Home Page
|
MG to launch a new TF in 2010
By Yoann Besnard on 8 May 2008 |
(0) Comments | Permalink
SAIC is determined to become a major player on the European market thanks to the MG and Roewe labels. After the promising 550 saloon unveiled at the recent Beijing Motor Show, the Chinese carmaker plans to launch an all-new MG TF according to Auto Express.
MG TF delayed, again, again and again
By Yoann Besnard on 8 February 2008 |
(0) Comments | Permalink

Will the reborn MG TF roadster roll off the production line in Longbridge? Nothing is certain as the car maker has announced it will delay the car once again.
MG TF delayed (again)
By Yoann Besnard on 13 November 2007 |
(0) Comments | Permalink


A spokesman for Nanjing has announced that the production of the long-awaited TF roadster is likely to be delayed until the first quarter of next year. By the time the roadster goes on sale, it might be too old to compete with the ubiquitous Mazda MX5.

Rover carved up
By Stéphane Schlesinger on 30 May 2005 |
(1) Comments | Permalink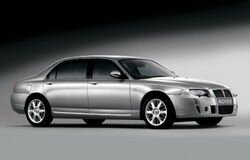 PriceWaterhouseCoopers's administrators have announced that before the deadline of May 13 th, 12 companies had made serious offers for taking over parts of the Rover Group.
Iranian Secretary of Sate for Trade and Industry Es-Hagh Jahanguiri made it clear that Iran was no longer interested in Rover since what made its value, its licence, had already been taken over by the Chinese company SAIC.
This being said, there still are numerous possibilities as to who might buy parts of the dead group, the most interesting of them being MG. Some say Russian investors, such as Nicolai Smolenski, who owns TVR, or Ruspromavto, which owns Volga, may be ready to purchase Morris Garage. Besides, 2 Biritish consortiums, Chapman Automotive and Welford-Winton have gone public with their statements of interest.
Anyway, nothing is certain yet, waiting for an official declaration by PriceWaterhouseCoopers seems a better bet.