|
Back to Home Page
|
Ssangyong Rodius makes Multipla look commonplace
By Stéphane Schlesinger on 25 June 2005 |
(0) Comments | Permalink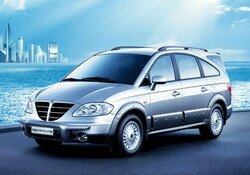 Weird, strange, huge, bizarre, outlandish : how can we qualify the styling of the new Rodius ? Ssangyong reckon it's the relexion of the practicality of the Rodius. Indeed, this MPV, designed by former head of the automotive design course at the Royal College of Art in London Ken Greenley offers accomodation for up to 11 people, in its Koran version. In Europe, it'll seat 7 'only', but thanks to its 5125mm length and its 1915mm width, they'll be able to take all the luggage they want. The passengers may seat either on foldable (even backwards) rail-mounted (but not removable) central chairs or a rear bench that's foldable backwards too and removable provided you don't mind carrying 38kg.
The 2 ,7 163 bhp diesel engine is provided by Mercedes-Benz, and so is the tiptronic style 5-speed automatic gearbox. This won't be too much to move the 2.2 tons of the Rodius. ESP is standard on all versions, while the interesting 4x4 transmission is optional.
Contrary to the smart Fiat Multipla, the Rodius does not compensate its odd styling with an innovative architecture.
Kyron, Ssangyong's hybrid
By Stéphane Schlesinger on 25 June 2005 |
(0) Comments | Permalink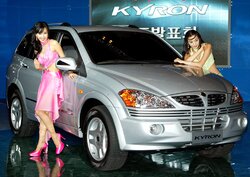 The Korean carmaker, part of the SAIC group, has just released the Kyron, which they present as a " luxury sedan sport-ute vehicle ". It's supposed to offer the advantages of both a sport-ute and a sedan. Besides, Ssangyong claim they have designed a 2.7 engine of their own for their new model, for which they invested 30 months and $249 million. The Kyron seems less oddly shaped another new vehicle from Ssangyong, the Rodius
Ssangyong hopes to sell 70,000 Kyrons a year, targetting the middle-class. They reckon they've closely been looking to the European market to design the successor of the Musso.
Grinnal Trike R3T
By Stéphane Schlesinger on 17 June 2005 |
(0) Comments | Permalink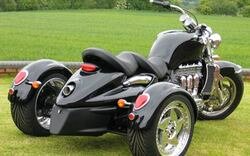 Famous 3-wheeler maker Grinnal unveiled the Trike 3T last month and plans to start production late June. Based on the Triumph Rocket 3T, Grinnal's trike delivers around 150bhp, a good car's power for a third of its weight. Thus, this vehicle should provide breathtaking acceleration for 2 people. A 3-seater version is on study and could be produced if there's enough demand.
Under the pillions, there's storage for 35 litres of luggage. Besides, the rear boot contains 45 litres.
Indeed, not only that this trike provide astonishing acceleration and awesome styling but also a certain practicality.
Production will deliberately be limited while orders have already been passed: don't wait too long to buy this great three-wheeler.
What a paradox: the UK is a country where no driver (or rider) can escape controls of many kinds, where speed limits are strictly enforced and yet, there remains such small crazy carmakers as Grinnal, making indecently fast vehicles, such as not only the Trike but also the Scorpion III and IV.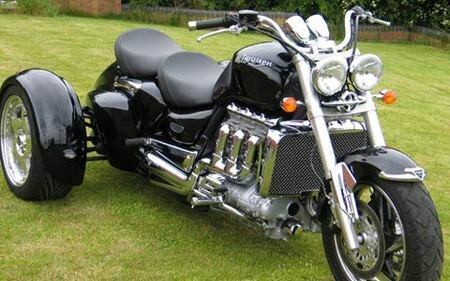 New Marcos TSO GT2 Coupe
By Stéphane Schlesinger on 14 June 2005 |
(0) Comments | Permalink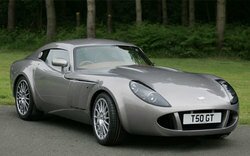 On June 13, Marcos released its new TSO GT2, at London's Canary wharf Autoexpo. This light sports car (1150kg) receives a GM 5.7 V8 engine delivering up to 475bhp. A dreadful power-to-weight ratio indeed! Thus, the new Marcos accelerates to 60mph in 4 seconds, to 100mph in 9 second and hits a top speed of 185mph, on track needless to say. Thanks to its 50/50 weight ratio, Marcos claims it remains quite easy to drive. Besides, with its impressive torque, it can accelerate from 50 to 70mph in… 2 seconds!
The customer can choose between two packages:
Sports Package, including the 475bhp V8, sports suspensions and racing brakes.

Tourer Package, with a softer suspension and comfort fittings.
Prices start at £49,995. This is not so costly for a car that can humiliate a TVR Tuscan, a Porsche 911 or a Ferrari F430.
New Suzuki Grand Vitara
By Stéphane Schlesinger on 6 June 2005 |
(0) Comments | Permalink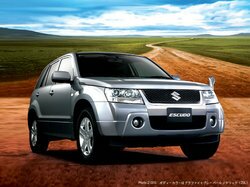 The 16-year-long career of the actual Grand Vitara is reaching an end: its successor should debut in the Frankfurt Motor Show next September.
If the name remains the same, the rest totally changes. The sharp-edged trendy body hides a new monocoque structure mounted of a fully independent suspension.
With this giant step forward, Suzuki fills the wide technological gap between the Grand Vitara and its main opponents, such as the Toyota Rav-4, the Honda CR-V or the Hyundai Tucson.
Foreshadowed by the 2-X Concept shown in the New York Motor Show last March, the new Grand Vitara is bigger than its predecessor, with a length of 439cm instead of 422, and a wheelbase of 264cm instead of 248!
Accommodation should benefit from this upsizing, and the passengers will feel all the more at ease since the dashboard has been redesigned in a style somewhat recalling that of the Mazda 6.
In a first time, 2 engines, a 145bhp 2.0-litre four-in-line and 184bhp 2.7-litre V6 should be available.
Interestingly enough, this new Suzuki gives us a hint of Fiat's future SUV, for they are to share their underpinnings and factory, in Hungary.