« DTI investigates on MG-Rover | Home Page | New Avensis 2.2 D4D makes ecology optional »
Alfa 159's prices make a BMW look cheap
By Stéphane Schlesinger on 3 June 2005 |
(0) Comments | Permalink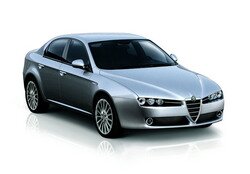 Presented at the Geneva Motorshow, the Alfa Romeo 159 is about to go on sale. This executive car will replace the ageing but still beautiful 156.
Built on the "Premium" platform co-developed with GM and drawn by Giorgetto Giugiaro, the 159 offers a very elegant styling and powerful engines, even if those burning petrol might upset the Alfisti.
Indeed, they are elaborated from GM blocks, the Italian engineers having totally re-designed the cylinder heads and pistons though.
3 of them will be available: 1.9JTS, 2.2 JTS and 3.2 JTS, all fitted with direct injection and Twin Phaser technology. Powers vary from 160 to 250bhp.
As for the diesel units, they all derive from the existing 1.9 and 2.4 MJTD, except the new VM-designed 3.0 V6, which is to come later.The 1.9 8V delivers 120bhp, the 1.9 16V 150 and the 2.4 20V 200.
But passing from the 156 to the 159 will not be so easy for customers. No matter if the 159 is far bigger than the 156 (466 cm vs. 444 cm), it's also a great deal more expensive, with a basic price estimated at £20,000 vs. £16,370 for the 158 1.8 TS!
By way of example, here are the price estimations for Switzerland and Italy:
159 1.9JTS Progression 38.000 CHF, 29.000 €
159 2.2JTS Progression 40.000 CHF, 30.500 €
159 3.2JTS Q4 Distinctive 52.000 CHF, 39.500 €
159 1.9JTDm Progression 38.000 CHF, 29.000 €
159 1.9JTDm Progression 40.000 CHF, 30.500 €
159 2.4JTDm Distinctive 46.000 CHF, 35.000 €
Let's hope these prices will drop, otherwise, if compared to the BMW 3-Series, the 159 would be penalised by its expected higher depreciation, even if quality seems to be the same level as a BMW's at first sight. Besides, many 156 owners could be tempted not to replace their car with a costly 159 and, for example, buy a cheaper Peugeot 407 instead.
TrackBack
TrackBack URL for this entry:
http://www.typepad.com/t/trackback/398149/2584944
Listed below are links to weblogs that reference Alfa 159's prices make a BMW look cheap:
Comments
Post a comment