« Land Rover G4 Challenge: real Survivors don't need video-cameras | Home Page | Deeper into the Alfa 159 »
BMW M5, a Meant for 5 sports car?
By Stéphane Schlesinger on 13 June 2005 |
(0) Comments | Permalink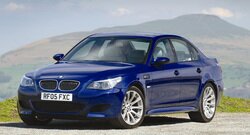 No speed limit on certain sections of German motorways: do you guess why German carmakers make the best sporty sedans? In this category, here is BMW's new ground-to-ground family missile: the M5. Outside, it's not so spectacular, but its 19'' alloys and 4 exhaust pipes indicate there is something special under the bonnet. A 4999cc V10 delivering 507bhp at 7750rpm has made it to the BMW 5-series. Not only does this engine take up an F1-like layout, but its block is also cast in the same Landshut-based foundry as those used by Williams. This magnificent piece of machinery, complying with the stringent Euro IV norm, is coupled with a 7-speed SMG III gearbox.
In order to cope with this powerful engine weighing 240kgs, BMW has fitted the M5 with EDC self-adapting dampers and an active steering. The front underframe has been stiffened too. Of course, ESP (called DSC) is standard, but it can be completely disengaged. Thus, it's possible to make the most of the 50/50 balance of the chassis and the V10 can give its best on a track.
With a governed top speed of 161 mph, you can't expect to worry the owner of a Ferrari F430.
But, according to Autocar magazine, the M5 can accelerate from 0 to 100mph in 9.8secs. It's only 0.4sec slower than the Ferrari… Besides, from 0 to 150mph, the Italian 2-seater is defeated by 0.5sec (21 vs 21.5)!
Priced at £61,755, the BMW can be seen as a bargain when you know an F430 costs £124,650.
In the mean time, you can comfortably journey down to the south of Spain with your family and other luggage, enjoying the leather upholstery, the head-up display and the M-Drive, allowing you to tune the car as you wish.
Now, could you imagine cruising at 70mph on the M5 in an M5?
TrackBack
TrackBack URL for this entry:
http://www.typepad.com/t/trackback/398149/2636046
Listed below are links to weblogs that reference BMW M5, a Meant for 5 sports car?:
Comments
Post a comment