« Chrysler PT Cruiser gets revamped in its turn. | Home Page | Urban mud bath for SUVs »
Grinnal Trike R3T
By Stéphane Schlesinger on 17 June 2005 |
(0) Comments | Permalink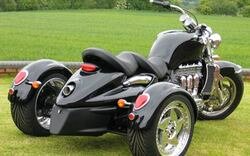 Famous 3-wheeler maker Grinnal unveiled the Trike 3T last month and plans to start production late June. Based on the Triumph Rocket 3T, Grinnal's trike delivers around 150bhp, a good car's power for a third of its weight. Thus, this vehicle should provide breathtaking acceleration for 2 people. A 3-seater version is on study and could be produced if there's enough demand.
Under the pillions, there's storage for 35 litres of luggage. Besides, the rear boot contains 45 litres.
Indeed, not only that this trike provide astonishing acceleration and awesome styling but also a certain practicality.
Production will deliberately be limited while orders have already been passed: don't wait too long to buy this great three-wheeler.
What a paradox: the UK is a country where no driver (or rider) can escape controls of many kinds, where speed limits are strictly enforced and yet, there remains such small crazy carmakers as Grinnal, making indecently fast vehicles, such as not only the Trike but also the Scorpion III and IV.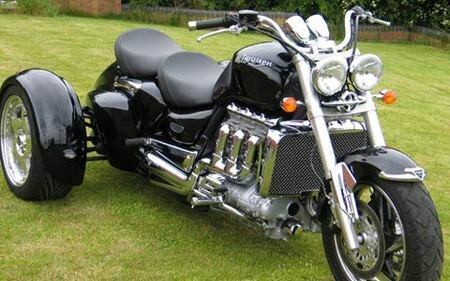 TrackBack
TrackBack URL for this entry:
http://www.typepad.com/t/trackback/398149/2664107
Listed below are links to weblogs that reference Grinnal Trike R3T:
Comments
Post a comment