« Kyron, Ssangyong's hybrid | Home Page | StudioTorino RK Spyder »
Ssangyong Rodius makes Multipla look commonplace
By Stéphane Schlesinger on 25 June 2005 |
(0) Comments | Permalink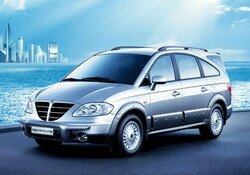 Weird, strange, huge, bizarre, outlandish : how can we qualify the styling of the new Rodius ? Ssangyong reckon it's the relexion of the practicality of the Rodius. Indeed, this MPV, designed by former head of the automotive design course at the Royal College of Art in London Ken Greenley offers accomodation for up to 11 people, in its Koran version. In Europe, it'll seat 7 'only', but thanks to its 5125mm length and its 1915mm width, they'll be able to take all the luggage they want. The passengers may seat either on foldable (even backwards) rail-mounted (but not removable) central chairs or a rear bench that's foldable backwards too and removable provided you don't mind carrying 38kg.
The 2 ,7 163 bhp diesel engine is provided by Mercedes-Benz, and so is the tiptronic style 5-speed automatic gearbox. This won't be too much to move the 2.2 tons of the Rodius. ESP is standard on all versions, while the interesting 4x4 transmission is optional.
Contrary to the smart Fiat Multipla, the Rodius does not compensate its odd styling with an innovative architecture.
TrackBack
TrackBack URL for this entry:
http://www.typepad.com/t/trackback/398149/2709925
Listed below are links to weblogs that reference Ssangyong Rodius makes Multipla look commonplace:
Comments
Post a comment