« The VW New Beetle gets face-lifted | Home Page | Uk new car sales drop slows down »
New Suzuki Grand Vitara
By Stéphane Schlesinger on 6 June 2005 |
(0) Comments | Permalink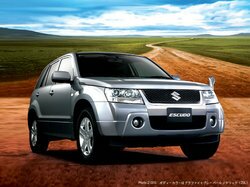 The 16-year-long career of the actual Grand Vitara is reaching an end: its successor should debut in the Frankfurt Motor Show next September.
If the name remains the same, the rest totally changes. The sharp-edged trendy body hides a new monocoque structure mounted of a fully independent suspension.
With this giant step forward, Suzuki fills the wide technological gap between the Grand Vitara and its main opponents, such as the Toyota Rav-4, the Honda CR-V or the Hyundai Tucson.
Foreshadowed by the 2-X Concept shown in the New York Motor Show last March, the new Grand Vitara is bigger than its predecessor, with a length of 439cm instead of 422, and a wheelbase of 264cm instead of 248!
Accommodation should benefit from this upsizing, and the passengers will feel all the more at ease since the dashboard has been redesigned in a style somewhat recalling that of the Mazda 6.
In a first time, 2 engines, a 145bhp 2.0-litre four-in-line and 184bhp 2.7-litre V6 should be available.
Interestingly enough, this new Suzuki gives us a hint of Fiat's future SUV, for they are to share their underpinnings and factory, in Hungary.
TrackBack
TrackBack URL for this entry:
http://www.typepad.com/t/trackback/398149/2592715
Listed below are links to weblogs that reference New Suzuki Grand Vitara:
Comments
Post a comment