« A new New Beetle in 2008? | Home Page | New Suzuki Grand Vitara »
The VW New Beetle gets face-lifted
By Stéphane Schlesinger on 5 June 2005 |
(0) Comments | Permalink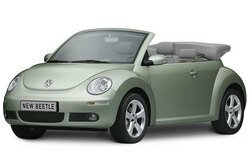 The face-lifted New Beetle will be launched next September at the Frankfurt Motorshow.
Externally, we notice new lamps and bumpers as well as redesigned wings, conferring the car a more aggressive look.
In the cockpit, there are minor changes only: a new trim, a new console and a few aluminium-like ornaments.
Sadly enough, the new 2.5-liter five-in-line engine delivering 150bhp as well as the DSG transmission should be reserved to the American market.
Indeed, VW has noticed European customers prefer cheaper New Beetles with smaller engines.
As a consequence, 1.4, 1.6, 2.0 and turbocharged 1.8 units will be offered in Europe, along with a 1.9 TDI 105.
Fortunately, prices should remain more or less steady.
TrackBack
TrackBack URL for this entry:
http://www.typepad.com/t/trackback/398149/2589215
Listed below are links to weblogs that reference The VW New Beetle gets face-lifted:
Comments
Post a comment